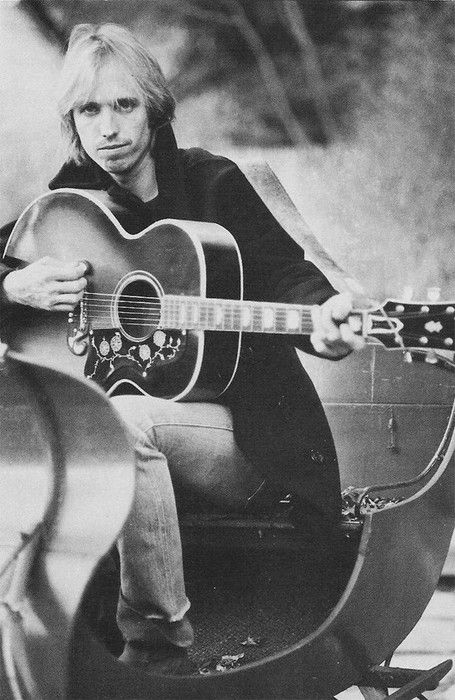 I know it's taken me a while to express this ode to one of my favorite musicians of all time, but I am the tortoise, not the hare. So here goes (profanity warning ahead): 
What the hell? Tom Petty is no more. What? Wait, what? This just isn't right. Petty is woven into the denim fabric of my musical heritage - he seeped in from the car radio in our old station wagon as I bumped along over Jacksonville roads in the back seat. He growled out of my dashboard when I was newly cruising down Beach Boulevard on my own, young and trying to be free. He defied authority on my television screen with psychedelic videos during the Reagan era and beyond. How can he be gone? 
Goddammit. 
He was a fellow Floridian (along with band mates Mike Campbell and Benmont Tench - don't forget those rock stars) but Petty took the boy out of the Deep South without ever truly taking the Deep South out of the boy. And that is no mean trick. 
Ah, but I have so many songs to wrap myself up in. Yes, not just the early breakout work and that ultimate rock benchmark - Damn the Torpedoes. But the later solo work too - Full Moon Fever, Southern Accent, Echo, that soundtrack he did for She's the One. 
And damn, his integrity and fuck you attitude will outlive us all - they certainly outlived an entire industry. My mantra has become "What Would Tom Petty Do?" 
And what would Tom do? Maybe I don't have his balls but I can still aspire. Don't listen to the men in suits - do it for the love, do it for the money, but don't do it for the love of the money (which is Daddy's favorite saying, but it fits here). 
He's an Archangel of Rock now - jamming with John and George, crooning with Roy, shooting the shit with Elvis and maybe beaming down his musical backbone to those of us left behind - bobbing in his wake. Cause the world still needs him - maybe now more than ever. 
So here's praying for a new generation of stubborn, rebellious awesome songwriters and musicians doing it their way - which just happens to be Fucking Rock n Roll. 
I'll leave you with a video from his Full Moon Fever (with one of my favorite Campbell solos ever!) that looks like what I think he's doing right now: