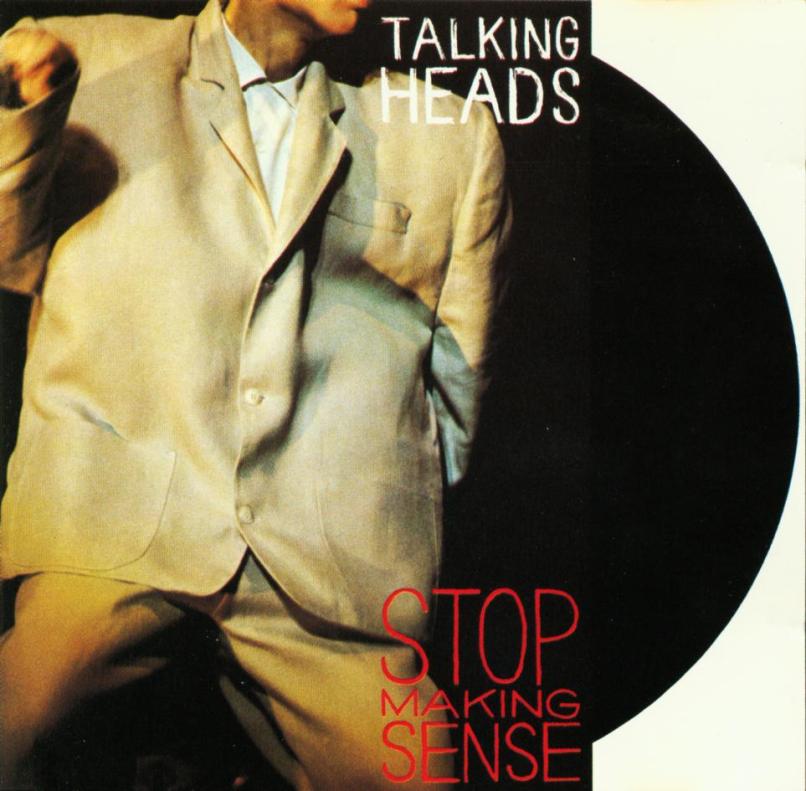 Here's a little side note about a side project Jamie and I participated in this Fall. Downtown Tucson's best dive bar, Che's Lounge (that hissing you hear is from all the ex-pat Cubans in my family - it's okay), does a cover concert every Halloween with a band that forms each year just for the occasion, Spacefish (founded by one of CL's owners, Jim). They have a (well deserved) reputation for doing amazing covers of amazing bands like Led Zeppelin, Weezer, Nirvana and even Jimi Hendrix. Our good buddy and bass player extraordinaire, Brian Green, had asked us to join in this year's shenanigans - covering Talking Heads' seminal concert movie "Stop Making Sense". 
This was no joke. Jamie signed on for keyboard duties (the Bernie Worrell part) and I was one of the backup singers (in particular, Lynn Mabrey, who is a force of nature and I learned a helluva lot trying to do her justice). We practiced our asses off with the rest of the 9-piece band who all did a great job. 
The Halloween concert was a success (not least because of Brian's 'Tina' wig and Jim's giant suit) and it was a bit of bummer that we only got to do it once. 
But not so fast - we're doing it again! Another part of the Spacefish tradition is they reprise the show for the Great Cover Up, a Tucson festival where local bands cover well known bands. Usually the point is to keep it secret which local bands are covering which known bands. But I'll let you guess who Spacefish is covering ; ) 
Some of our hipper counterparts kinda look down their nose at covers. C'mon this is someone else's materials, it's already been done, this is SO 1984! But to me, it depends on who you're covering. Jamie and I have worked on covers of The Beach Boys, The Who, and The Beatles. And every time we learned a TON. These are bands who were masters of their music - the writing is unparalleled and the playing always required stretching beyond your comfort zone. Well crafted songs that turn out to be so much more complex and nuanced when you break them down. It's like cross training for musicians. Plus it's HELLA fun! 
For this show, I'm more of a 'side man' but then I get to delve into the challenges and art of backup singing. Because it IS a challenge and it IS an art (just see 20 Feet From Stardom). For this show in particular, the backup singers provide a soul/R&B counterpoint to David Byrne's intellectual but grooving rock. You have to sing with power and emotion and skill without overpowering the lead. In fact, at the Halloween show I couldn't even fulfill my part fully because I was getting over a bad cold and didn't take care of my voice the way I should have and ended up losing it by the end of the show. It all worked out (with mega help from my wonderful co-singer, Grace Thompson) but it reminded me that THIS AIN'T NO FOOLIN' AROUND! 
And I love that. I love working on a show with everything I've got. No matter the pay or prestige (or lack thereof). It's such a high to make awesome music with awesome musicians. To figure out exactly what's happening with the melody and harmony. To marvel at these cool arrangements that make a song so special and really read the lyrics and appreciate the craft and skill that went into "Stop Making Sense". 
Even if these aren't my own compositions - this is one of the reasons I'm here, why I'm alive. To do a show like this, no matter who's there. 
But if you're in Tucson and want to check it out, here's the info! 
December 16th (this is the 3rd night of the festival - go here for more info) 
191 Toole (which is both the name of the venue and the address : ) 
The entire show starts at 7pm but we don't go on until 11:30pm 
This is a benefit for Planned Parenthood and the suggested donation is $8