Here's a reprint from 5 years ago - I was just reminded of it by a kind message from Freddy Paulus' grandson, Nicholas! Thanks for getting in touch, and all the best to your grandfather!
Most girls growing up in Jacksonville Florida in the eighties went to the mall. And so did I, though only when I absolutely had to. I was able to get away with less mandatory shopping time because I went to a Catholic school with an ugly, maroon and white uniform that took care of the bulk of my clothes-wearing necessities. Mami would try to cajole me into JC Penney's, Kinney's, Lerner's or even Merry-Go-Round, so that outside of school I had a chance of wearing some nice outfits without spots or frayed hems. Then if we ever bumped into other Cubans, she could keep her reputation as a good mother intact.  But more often than not, on Saturday mornings I'd put on some slightly torn jeans and a tshirt and hop in the station wagon with Daddy to trade at the book store or check out guitars.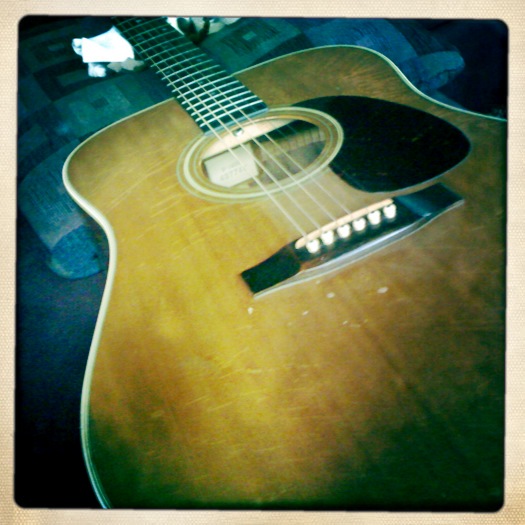 I'll admit it, I'm spoiled when it comes to guitars. Where most kids my age had to make do with some cheap department store knock off, Daddy made sure I had an American-made honker in my velveteen-lined guitar case. I never owned a pair of Jordache jeans but I was always well-stocked with a Guild or Gibson - even a Martin. And all this on a high school history teacher's salary. That's because my Daddy can wheel and deal like the best of them, and because he made the rounds every week, examining inventory, scouting out deals and making trades. He hardly ever used cold hard cash or easy credit. No siree, he's a bartering man. Every store was an old friend and he was always given a hearty welcome when he walked through the door. Now that mom-and-pop music stores and bookstores are going the way of the dinosaur under the meteorite shower of Online Shopping, I'd like to pay my respects to a couple of establishments from my youth that made my musical life all the richer. 
Paulus Music was in an old department store building in downtown Jacksonville at Duval and Ocean. The ceilings were high, covered in old stamped tin, the walls had been coated in layers of paint probably an inch thick before you'd hit plaster. There was a large front showroom lined with linoleum (with its own healthy amount of asbestos no doubt), a counter in the back with an old ring-up cashier where you made your purchases, and an upstairs filled with rows and rows of sheet music. The walls were filled with guitars, new and used, and the floor covered in drum kits. Daddy had known Mr. Paulus, Fred, that is,  for a long time. He was known as a friend to the local musicians from way back in the sixties - sometimes giving a young kid a special layaway deal if there was something he really wanted but just couldn't afford. It was a hot spot for local musicians for the longest time (since this is Jacksonville, that included members of southern rock bands like Lynard Skinnard, .38 Special and Molly Hatchet). Lots of young men would frequent the joint, checking out the Gretschs, Les Pauls and the best rock n roll gear of the day, hanging out and talking about music. By the time I was visiting, the clientele seemed to lean more towards band kids and their parents. But the love of music and guitars was steeped deep into every surface of that local institution. 
Don's Pawn - ah, now this was mecca and the source of many of my guitar treasures over the years. Daddy had known Don for ages, too. Don wasn't a picker or a player but he was a great businessman and music fan who had a good eye for guitars. His store was aaaaall the way over on the Westside, about forty minutes from home, but Daddy would still schlep over, always with a guitar or two in tow ('just in case I see something I like') lovingly stowed in the backseat instead of the trunk ('never put your  guitar in the trunk for any idiot behind you to slam into'). Don had a cool collection of signed Gretches - gorgeous huge hollowbody mammoths that looked like cars from the fifties. They were scrawled with the Sharpie signature of Chet Atkins and BB King and quite a few more I don't remember. The guitars were a hodgepodge of what the good ol' boys brought in when they owed someone money hanging next to some amazing vintage finds at guitar shows. Everything from beat-up Epiphones left in a car too long to a shiny, like-new 1967 Gibson Hummingbird. The store was never much to look at itself - all right angles and industrial carpeting. But it didn't matter, you were looking at the guitars anyway. 
First things first, Daddy would call out Don's name with a happy shout. Don would greet him like a long-lost brother after a lifelong separation (though they'd just wheeled and dealed the week before). They'd shoot the shit about the week, their kids, the messed up state of the union. I'd nod and smile and then go about checking the latest offerings. There was decent turnover at Don's and always something new to see. I would only check out the acoustics back then - this was before I 'went electric' in New York - and made a beeline for the GG&Ms - Gibsons, Guilds, & Martins - especially the older ones (though I didn't quite understand the concept of 'vintage' yet). 
There's so many nuances to a well-made acoustic guitar: the finish (sunburst, blond, dark - even the sunbursts had their own subcategories of cherry, tobacco and daddy's so-called 'bugsplat'), woods (maple, mahogany, spruce, ebony), shape (parlor, jumbo, cutaway, double cutaway), playability (high action, low action, needs a setup or good to go) and, of course, the almighty sound. I swear, older GG&Ms just sound better. There's a mellowness, a slight over-ripeness that I always prefer. Newer guitars tend to sound too bright or harsh to me. Then there's the smell. There is nothing, I mean nothing, like the smell of an acoustic guitar. It's the honest smell of wood - young and fresh or old and musty. Just stick your nose in the soundhole and take a deep whiff sometime. Ahhhh. 
After Daddy finished chewing off Don's ear, he'd start going through the inventory himself, strumming guitar after guitar. He'd inspect each one - peering down the neck to see if it needed adjusting, peering through the soundhole at the label and to get an idea of the bracing inside. After much eye squinting and brow furrowing, he might come across a new guitar that he couldn't live without - but he wouldn't let Don know that right off the bat. He'd just start asking about it, where Don found it, any history he could get, while the wheels in his brain chugged along making shrewd calculations about how much trade-in value he might get for what we brought in and if there were maybe any specially good books at home that might sweeten the deal. At the right moment, he'd send up the first offer. Don would pause, narrow his eyes, stroke his beard and then the real negotiating would commence. I was never interested in this part and would start wandering the aisles again. 
Eventually they'd make their deal and more often than not, Daddy would come home with a different guitar and only sometimes with a lighter wallet (especially since my frugal mother would be waiting at home with the balance book and a stern look in her eye*). Many a time those deals were made for my benefit, hence my impressive list of former guitars. But where Daddy likes to buy and flip guitars, always freshening up his collection with something that looked like it needed a good home, I tend to find a guitar I love and stick with it. The Martin is one (and with its history, I doubt I'll ever part with it again) and my cutaway Taylor has been with me for more than ten years now and ain't going nowhere. Though now I'm thinking I might need a small parlour guitar to pick and strum with Jamie on the back porch. Hmm... 
The wheels of Change are always grinding, though, and thanks to Almighty Ebay, Don closed down his store a few years ago and the Paulus store is about to become a health clinic. But their legacy lives on in the hearts and minds of many kids, young and old, who found a special kind of joy and magic in these wooden talismans of homespun music. I never won 'Most Fashionable' in high school but those guitars sure beat acid-washed jeans any day of the week. 
* Mami may come across as stern in this post, but that's more for comic effect. Most of the time if Daddy overspent, she'd start off with a reprimand but then he'd tell some joke and she'd roll her eyes and laugh. She's the best - ¡Feliz Día de las Madres!