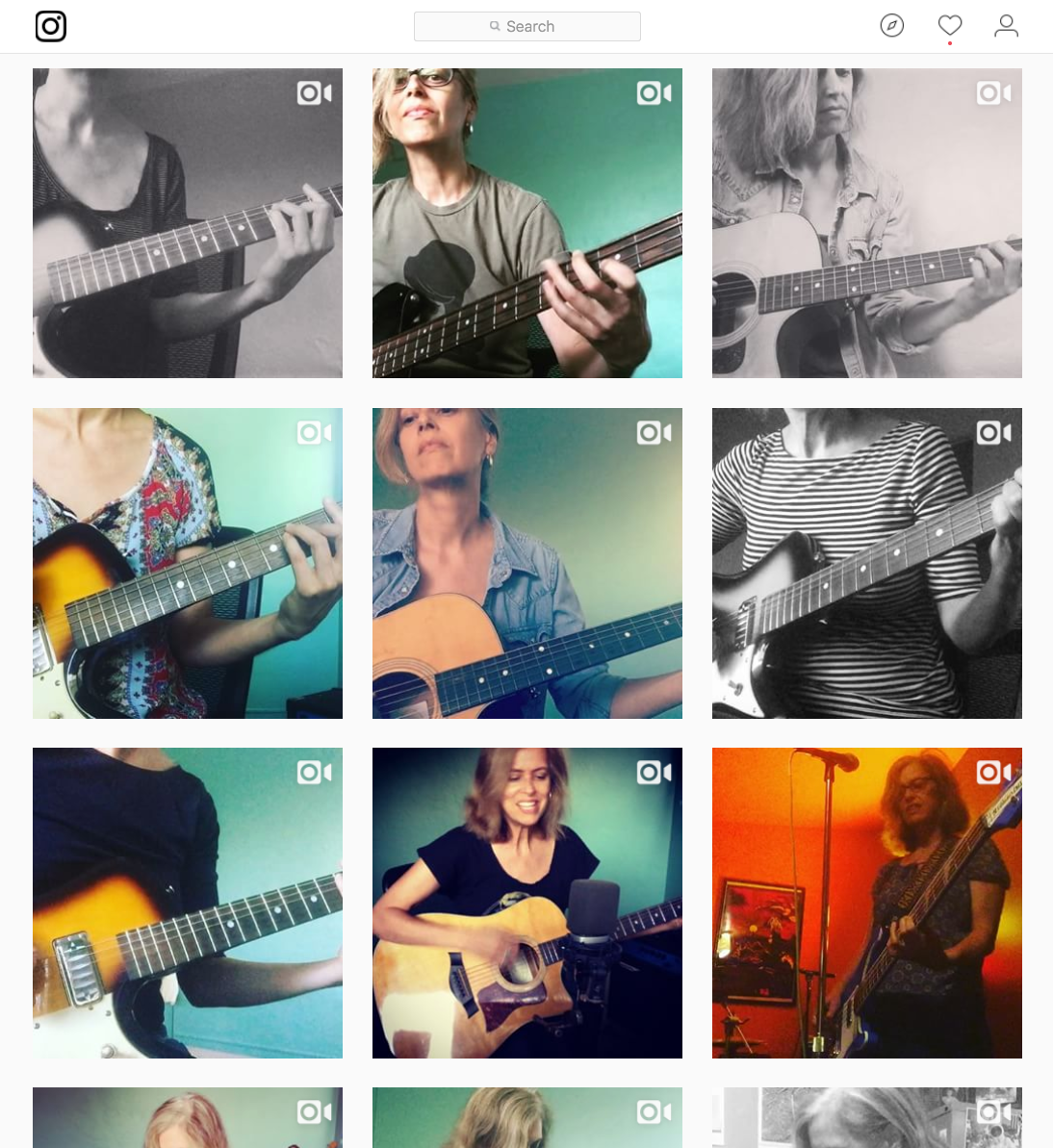 September 30th was the last day of a thirty day challenge called 1 Riff a Day (or #1RAD) sponsored by She Shreds magazine. The challenge is simple - just post one "riff" - on acoustic guitar, electric guitar, bass, or just scat something vocally, it don't matter. The gender wasn't specified, but as it's a mag about and for female guitar and bass players, those were the dominant participants.
For some reason, I felt a giant YES bubble up and out when I first read about it, right at the end of August. I'm still not quite sure why. It's not like I'm looking for more things to put on my plate. It's not like there isn't already a lot of music in my life. And it's definitely not like I enjoy making videos of myself AND posting them to the public without having time to make things perfect or even make sure I look "presentable" half the time. But I felt the call to join and I went for it. 
I'm really glad I did! 
With all the bemoaning of the evils of social media, it's a very different beast for me. I'm shy. My natural inclination is to dodge the spotlight if it's just about me. If I'm in a play or a collaboration, I'm all up for it and ready to go. But something about putting _myself_ out there out of my own choice makes me feel squirmy.
I'm also not someone who's comfortable communicating quickly. It usually takes me a while to figure out the right words that express what I really mean - especially in writing - and yeah, I guess I'm a bit of a perfectionist. A LOT of a perfectionist. Which again is why I don't know why I wanted to do this. There wasn't time for perfection between the duties of my day job, Silver Cloud Express rehearsals and gigs and other music projects and everything else that makes up a life.
And it turns out nobody cared.
I started learning that people appreciate and connect more with what's human rather than what's perfect. And though I still want to publish things that are Excellent - I'm now more willing to also publish (though less formally) expressions of myself that are True even if a little rough around the edges. And people did seem to like it - I even got featured a couple of times on the She Shreds riffaday weekly roundups!
Other observations: 
There are SO many awesome guitar and bass players around the world who happen to be women! Nowadays that's not so unusual, but it was still wonderful to see and hear other women playing day after day. I was totally inspired by some major badasses like @joany_cat_guitar, @umemusic, @maria_pien, @alexandymann, @m_agdalenaaa, @savoirfairemusic,  and so so many much more!

I really don't have 30 different shirts : ) 

Filters are Good! They can really help smooth things out when you have no makeup - or are still wearing smudges of last night's makeup - and you're over a certain age. (Speaking of which, I'm pretty sure I was the oldest shredder on IG - but that's another topic for another day!)

It felt good to hit Share on my Instagram every day and realize I had just published some music out into the world, even if it's only 15-30 seconds worth.

It also felt terrifying with lots of negative thoughts  swirling through my mind "ugh, but what if it's boring?" "what if it's unconscious plagiarism?" "what if the people think it's lame?) and then the world would keep turning anyway. 

It wasn't terrible to post myself doing something every day. I don't want to do it moving forward - every week or so would be cool - but so many people would casually mention how much they liked my "little videos" and it totally helped me reframe the idea of sharing myself that way.
Since then, I've started up a #1riffaweek challenge - a few other Shredsters are doing it to. Much more manageable and still makes me put myself out there on the regular.
Check out my riffs here!
https://www.instagram.com/cristinaawilliams/
And check out ALL the cool riffs here!